Inside Ashley Tisdale's Gorgeous Self-Designed Family Home She's 'Really Proud' Of
Actor and singer Ashley Tisdale takes you on a tour of her beautiful self-designed Los Angeles home and why she made the furnishing decisions that she did.
Ashley Tisdale has a marvelous fashion sense, but that also extends to her Los Angeles home. The actor and singer gave an inside look within the house that she lives in along with her husband, Christopher French, and her daughter, Jupiter. Tisdale had a clear vision for the home, but none of it is without meaning.
Ashley Tisdale is used to working on a home from the ground up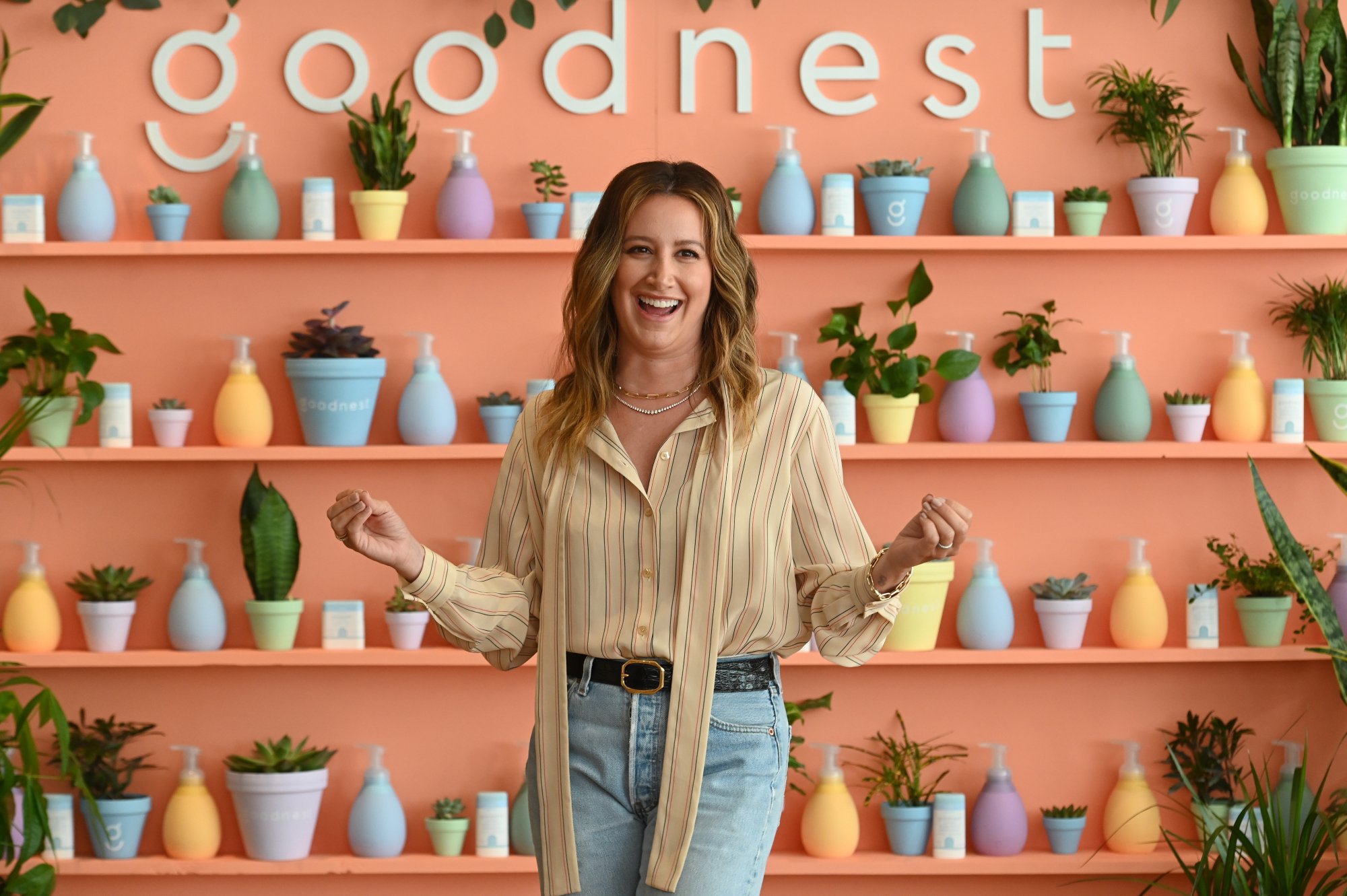 Tisdale gave Architectural Digest an inside look into her Los Angeles home. However, the video starts with the actor and singer explaining how she helped work on all of her previous homes, including the one her dad built from the ground up.
However, Tisdale decided for her current home to be move-in ready. As a result, it was the first time that all she did was the designing and furnishing.
Inside Ashley Tisdale's Los Angeles home
Tisdale showed off her living room space to AD, which is composed of three different rooms. She designed the room around the 1971 Mario Bellini sofa, but she had some difficulty getting the flow to work between the rooms. The main room has a gorgeous table, but the other spaces include a relaxing area where Tisdale takes naps and a bookshelf area. However, they had only just purchased "like 400 books" to fill it and focused on mixing fun, quirky colors and shapes with her usual "neutral" style.
Next, Tisdale moves to the dining room, where she designed it all off of a spherical chandelier. She included a custom-made table and chairs to complement that the house is surrounded by trees. Additionally, she has a dresser that allows her extra storage space to truly enjoy her candle obsession, which has really spiked over the course of the pandemic.
Tisdale showed a "minimalistic" home kitchen. They aren't huge cooks and there isn't much of a real pantry. So, they got creative with finding ways to create storage space. Nevertheless, Tisdale became famous amongst her friends as a kitchen designer, as they requested her help with their own renovations.
The TV room is where Tisdale spends a lot of her time with French and Jupiter. A Jaws poster hangs on the wall, where she designed the space based on the sofa. They needed a durable piece of furniture for their daughter. Tisdale admitted going with "quirky" shapes for lighting and furniture. She also included a photograph of her dog, Maui, on the wall, who died a few years ago.
The couple painted Jupiter's room green and added the best non-toxic crib on the market along with a chair for Tisdale to rock her to sleep and a very sturdy swing that her father installed.
Tisdale and French's bedroom is a beautiful space in the home. They incorporated inspiration from various interior designers and brought in beautiful wooden nightstands. However, Tisdale wasn't expecting the price to be so high as a result of the conversation from euros to dollars.
Tisdale spends a lot of time in her bathroom to enjoy a nice bath in the tub with some rosé and Netflix on the bathroom's television. Additionally, her home office is simple but features a beautiful piece of moon art and a Noguchi museum light. She hilariously made her husband reserve it while she was having a colonoscopy.
Finally, the Tisdale home movie entertainment room is the "comfiest room" in the house with a pull-down projector screen. She admitted that Jurassic World is her all-time favorite rainy day movie.
She finds the outdoor space to be just as important as the indoor areas
Next, Tisdale brings AD to the outdoor space of her home. She explained that there wasn't much to do in this space because the pool is so large. They don't use the pool very often, but they do take advantage of it on some days in the summer.
However, she did decorate the trees with heart fixtures from her favorite spot in Cabo. Additionally, there is a sauna that came with the property that she wanted to take advantage of after she gave birth to Jupiter.
Tisdale hired a landscape designer to help her with a vision for the outdoor space of her home. She wanted a zen space to align with the gardens, so she added a fountain to the area.