'Maine Cabin Masters' Always Honors Their Home State in One Lasting Way
Maine, one of the best places to find a home, is known as Vacationland because of all the opportunities it offers vacationers all year round. It's also the home to one of the most popular shows on the DIY Network, Maine Cabin Masters. The materials used on the show and the artwork commissioned are all obtained locally because those who live in Maine know how important it is to support your fellow business owners.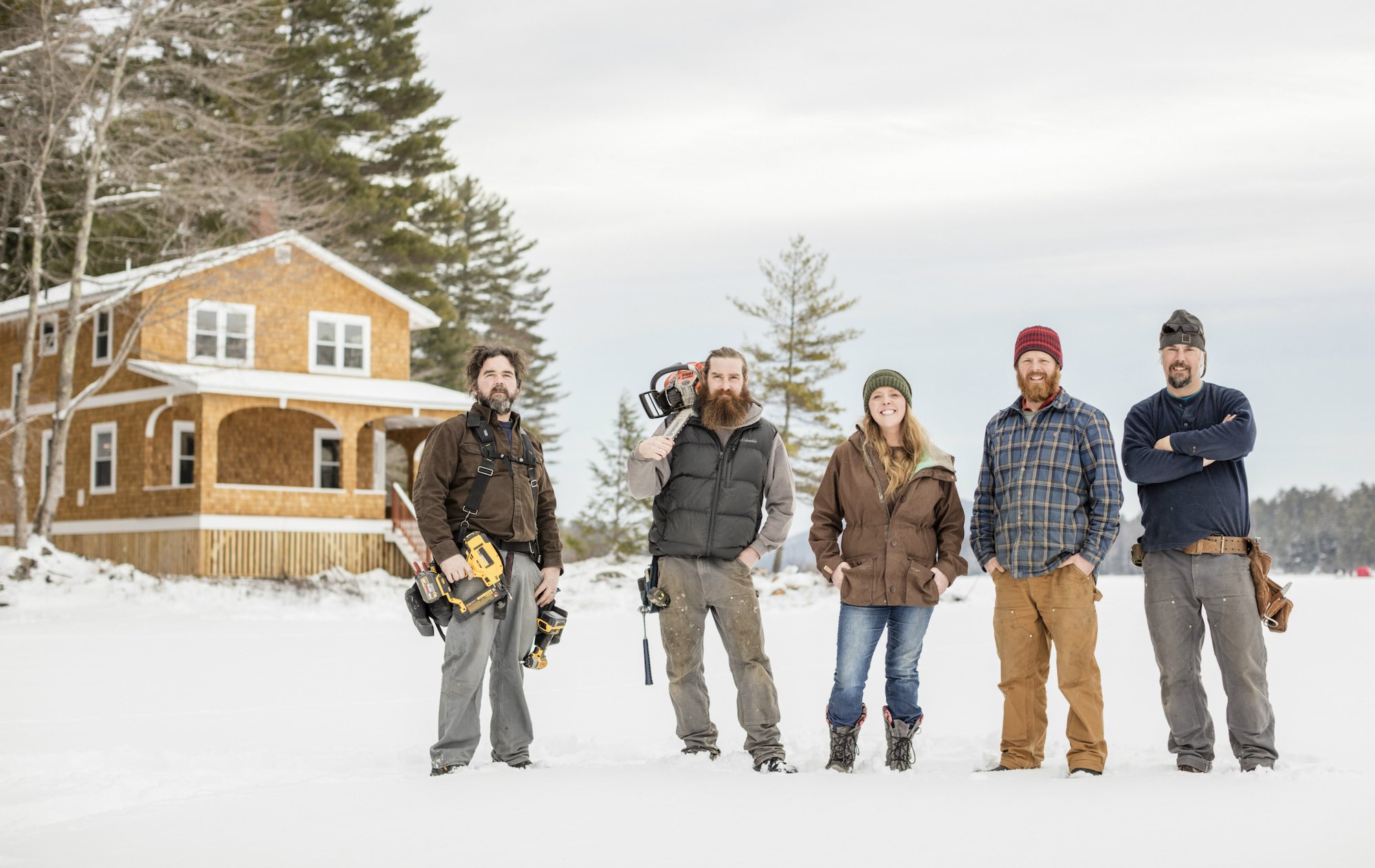 What exactly is 'Maine Cabin Masters' and why is it so popular?
The DIY Network, which will soon be replaced, has been running Maine Cabin Masters for several seasons now, according to Forbes. The fixer-upper show focuses on a team of carpenters and one interior designer who goes around the state of Maine and renovates older cabins in need of some TLC. 
But, what makes this show appealing to audiences is the crew that works together to remodel these cabins, or camps, as they're called in Maine. The team consists of a brother and sister duo, Chase Morrill and Ashley Eldridge, who love to joke with each other, as most siblings do. They work alongside Ashley's husband, Ryan, and three other carpenters. 
This crew's chemistry and humorous wit make it a joy to watch. Plus, they're actual skilled artists, who've been running their own renovation company long before the cameras came into the picture. 
The team brings more than just updated structures to owners
The team takes pride in being able to give new life to an old outdated fixer-upper cabin. What makes them unique over other carpenters is that they specialize in camps, and they can work with tight budgets and relatively shorter time frames. Plus, they grew up in Maine and know its history and cultural traditions quite well. 
However, the show doesn't just showcase builders remodeling a shack. It's about renovating cabins the right way. It's about conserving Maine's rich history in the idyllic life of remote area living away from the bustle of city life, which is what usually draws people to Maine in the first place, especially to the lake and ocean shores. They want to experience life listening to the sounds of nature, not the sounds of traffic.
Whenever they can, they preserve parts of the cabin they're working on and figure out a way to connect it to the modern design style. Reusing wood that's still in great shape is not only a brilliant way to save their client's money, but it brings a part of the home's past into the present.
How local resources add a special touch to the project
While Ashley Eldridge, the interior designer, talks with the owners to get a feel for the design elements they're looking for, she also wants to know what's important to them, and what drives them to do the things they do. 
A huge part of designing their camp is bringing elements of their client's life and incorporating it into the cabin. The ultimate goal in a camp renovation is to make the owners happy with what the team has done to their home. 
That's usually accomplished by merging charming design work with the emotional connection the owners will get from a piece that speaks directly to them. An art deco picture, for example, may trigger happier memories the client wasn't expecting. 
Eldridge finds her pieces from local artists, who specialize in using just about any material she brings them and creating phenomenal artistic pieces, whether it's a wall hanging made of metal or a piece of wooden furniture. Each one becomes a visual reminder of what makes Maine, with its vacationland slogan, a great place to live. It might consist of a table made of old barn wood, or a lamp that Chase created from what others would call junk. 
Maine Cabin Masters is in their 5th season on the DIY Network and fans hope to see it go on for many more. The audiences they draw love to see what antics they'll get up to next and what they do with the project they take on. Because they don't just update shacks, they build homes for their clients, even if it's only for summer and not year-round.