'Project Power': The Netflix Film Was Filmed on Location in an Iconic American City
Project Power is the latest action thriller to hit Netflix. The film's rich backdrop is a character in itself. And it has fans wondering where Project Power is set, and where it was filmed.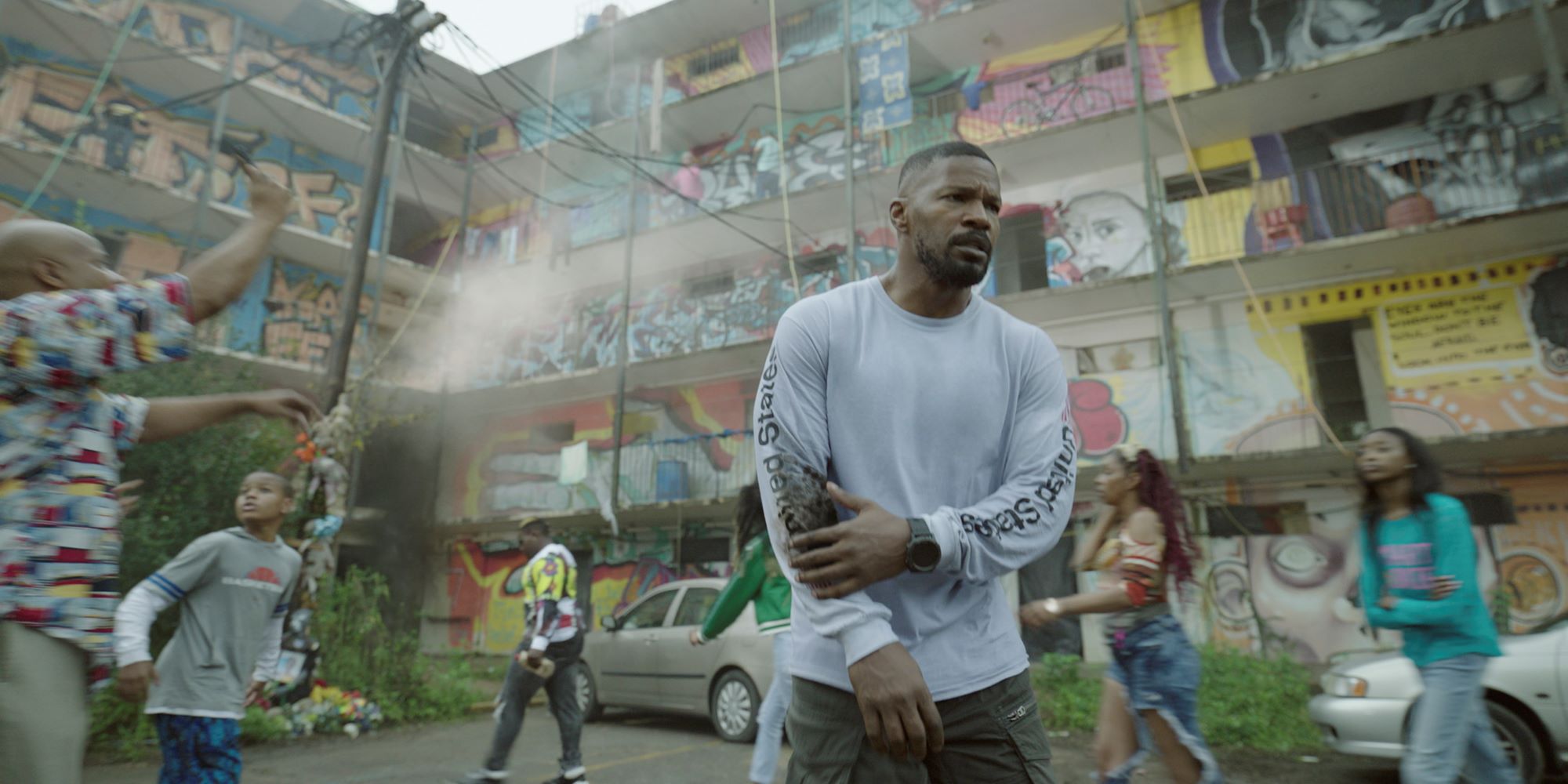 'Project Power' is set in New Orleans 
Netflix's Project Power tells the story of Robin (Dominique Fishback), a reluctant young drug pusher who is trying to help provide for her mom's ongoing medical treatment. When she realizes that her cousin, Newt (Colson Baker, aka Machine Gun Kelly) has taken a drug that gives him superhuman powers, she joins a mysterious man named Art (Jamie Foxx) and a cop named Frank (Joseph Gordon-Levitt) to try and stop the drug from spreading.
The film is set in New Orleans, Louisiana. And it features scenes depicting the rich backdrop and culture of the iconic American city.
RELATED: 'Project Power': 7 Awesome Jamie Foxx Movies to Watch Next
The Netflix movie was filmed on location
Unlike many Hollywood projects that are filmed in Canada or Europe, and then made to look like the United States, Project Power was actually filmed on location in New Orleans. Production for the movie took place in December 2018.
The film features a number of New Orleans neighborhoods, including buildings from the Lower 9th Ward and the old Six Flags amusement park. Many of the outdoor scenes feature notable city landmarks,
RELATED: 'Project Power': Is the New Netflix Movie Based on a Comic Book?
The 'Project Power' screenwriter chose New Orleans as the setting for a reason
When talking to Forbes, Project Power creator/screenwriter Mattson Tomlin revealed that he initially envisioned Portland, Oregon as the setting for the film. But he ultimately changed the backdrop to New Orleans because of its history and character.
"There's the way that New Orleans was treated during Katrina and really forgotten in that time, and that all felt like it had to inform the script, the world around us," Tomlin said. "Why 'Power' had been brought to this city and this shadowy organization thinking that they could really get away with it in New Orleans."
In a separate interview with the Hollywood Reporter, Tomlin said that he scoped out a number of other places before settling on New Orleans. "It's such a cool city, it's such a distinct city," he said. "It has, in terms of the thematics of the story, real history that helped reinforce the story we were telling about people in control and the government and all of that stuff."
In the film, Joseph Gordon-Levitt plays a New Orleans cop who vows to protect his city. Tomlin noted that the city served as part of the character's origin story as well as his motivator.
"A lot of his motivation [is from] being this guy who is born and raised in New Orleans, who had been through there, who has lived there his entire life, and is tired of New Orleans being treated like the little guy," Tomlin told Forbes. "He really becomes a champion for the city in a way that I think is pretty lovely."
Project Power is currently streaming on Netflix.