'Vanderpump Rules' and 'Summer House' Stars React to Katie Maloney and Tom Schwartz's Divorce Announcement
Vanderpump Rules' longest-standing couple, Katie Maloney and Tom Schwartz, shocked friends and fans by announcing their plans to divorce. Here's how their VPR castmates and fellow Bravo show Summer House cast members have been reacting to the news.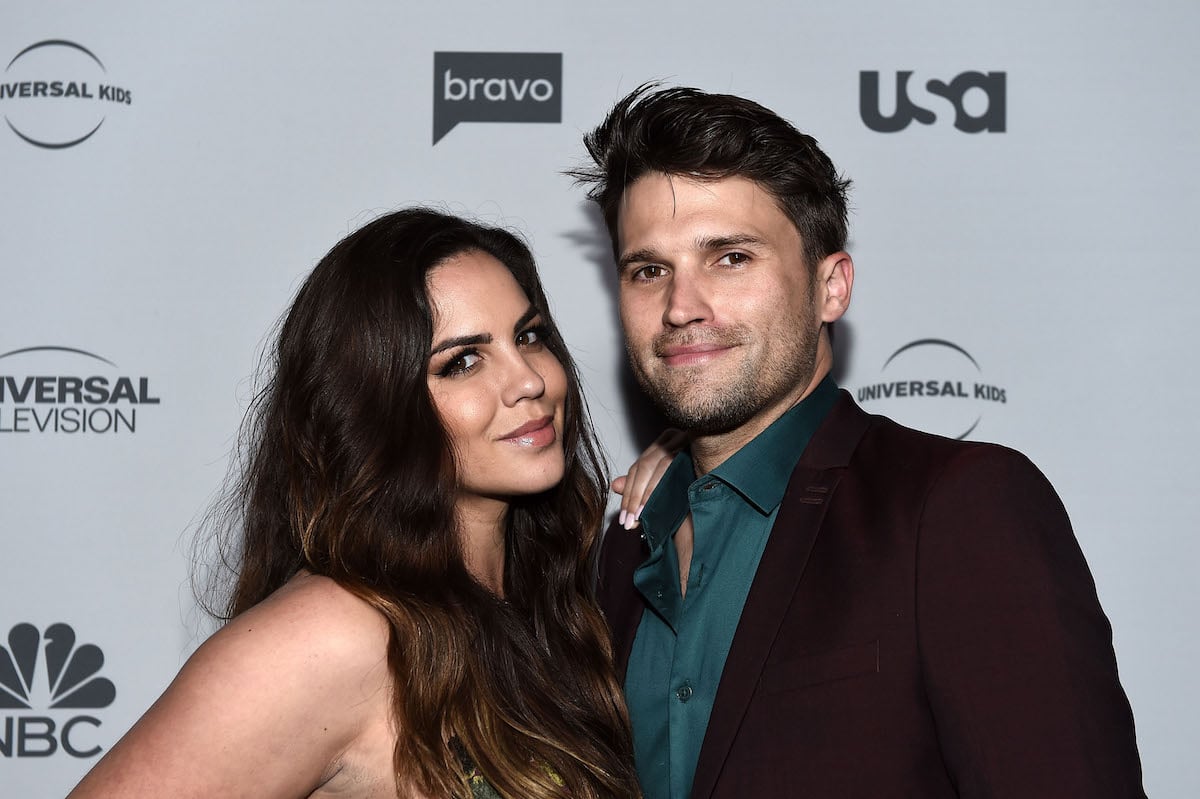 'Vanderpump Rules' stars Tom Schwartz and Katie Maloney are divorcing after 12 years together
On Mar. 15, Vanderpump Rules stars Tom Schwartz and Katie Maloney announced their plans to divorce by posting on their respective Instagram accounts.
"I never thought I would have to make an announcement like this," Maloney began her Instagram post. "…After 12 years on an adventure through life together Tom and I are ending our marriage." She went on to write that they still have "deep admiration for one another," and they "cherish [their] friendship."
Fans saw Schwartz propose to Maloney in season 4. The couple planned their wedding and walked down the aisle together in season 5.
Although the Bravo show has featured several cast members' weddings, Maloney and Schwartz were the only married couple on season 9 of Vanderpump Rules. They were also the only original couple remaining from the first season of the long-running reality show.
Tom Schwartz made it clear that the divorce was Katie Maloney's decision
Tom Schwartz's divorce announcement was significantly longer and more revealing than Katie Maloney's. While Maloney's post contained just one slide of typed words, Schwartz shared ten slides, including several photos of the couple in happier times. 
"Well this sucks," Schwartz started his lengthy Instagram post. "How am I supposed to capture 12 years of love in a f***in canned Instagram caption." He continued by writing, "…I'm not quite ready to use the 'D' word yet bc it's too painful." 
Schwartz's message revealed that the divorce was his partner's idea, writing, "Fully respect Katie's decision and we've had healthy, productive conversations about it. It would be far sadder if she decided to stay with me whilst not happy."
He shared that the couple had experienced "some of the most blissful, romantic, fun times humanly possible" together, describing it as "heaven on earth level joy." He also said that Maloney taught him "so much about love" and "being a better partner."
The couple's fellow Bravo stars from 'Vanderpump Rules' and 'Summer House' are reacting to the news
Katie Maloney and Tom Schwartz aren't the only Vanderpump Rules cast members who have broken up recently. Their castmate Lala Kent, who ended her engagement with Randall Emmett in November 2021, left a red heart emoji in the comments section of Maloney's announcement and a white heart underneath Schwartz's post. 
Raquel Leviss, who announced the end of her engagement with James Kennedy in January, wrote, "Sending love Schwartzy ❤️" on his post, and "Sending love Katie ❤️" on Maloney's page.
Summer House star Kyle Cooke commented on Schwartz's post, writing, "Love you brother. Here for you both. You'll get through this." On Katie's post, he commented, "Love you Katie!!! #bubba ❤️," referencing Maloney and Schwartz's nickname for each other, which Schwartz once got tattooed on his buttocks.
Cooke's wife, Amanda Batula, wrote to Maloney, "Sending big hugs ❤️," and to Schwartz, "My heart hurts. Love you both so much 😢"
RELATED: 'Vanderpump Rules' Star Lala Kent Gets Candid About Sober Sex With Randall Emmett: 'I Couldn't Wait For It to Be Over'