'WandaVision': Kevin Feige Told Elizabeth Olsen Why 'It's a Sitcom' and the Wanda Maximoff Actor Says It 'Didn't Seem So Bizarre'
WandaVision is the latest in new content from Marvel. The Disney+ series stars Elizabeth Olsen and Paul Bettany as Wanda Maximoff aka Scarlet Witch and Vision, their Marvel Cinematic Universe characters. A puzzling move to some Marvel fans, Olsen promises viewers will learn why WandaVision is a sitcom at some point during the show. 
'WandaVision' is a new start for the superheroes
"The show is like a blank slate for them," Olsen told Elle over Zoom in January 2021. "Wanda and Vision's journey to this point is a story of pure, innocent love and deep connection with another person," she explained. "It was also very traumatizing. Tragedy has always been their story. In our show, we kind of wipe that clean and start fresh."
Before WandaVision, Vision and Wanda experienced love and tragedy in equal measure. In 2015's Avengers: Age of Ultron, Wanda and her twin brother, Pietro, teamed up with the Avengers following the deaths of their parents. Although the film ended in victory for the superheroes, it proved to be bittersweet because Pietro died in the process. 
Wanda found solace with Vision but it didn't last long. Only able to live thanks to the Mind Stone, Vision became a target of Thanos (Josh Brolin). In Avengers: Infinity War, Vision asked Wanda to sacrifice him. She did but Thanos reversed time to get the stone, killing Vision once again. 
The two reunited on WandaVision. They live in the suburbs while they try to keep their true identities secret. The Marvel series premiered on Jan. 15, 2021, and ever since then, fans have been wondering about what's in store for Vision and Wanda.
Elizabeth Olsen says fans will find out why 'WandaVision' is a sitcom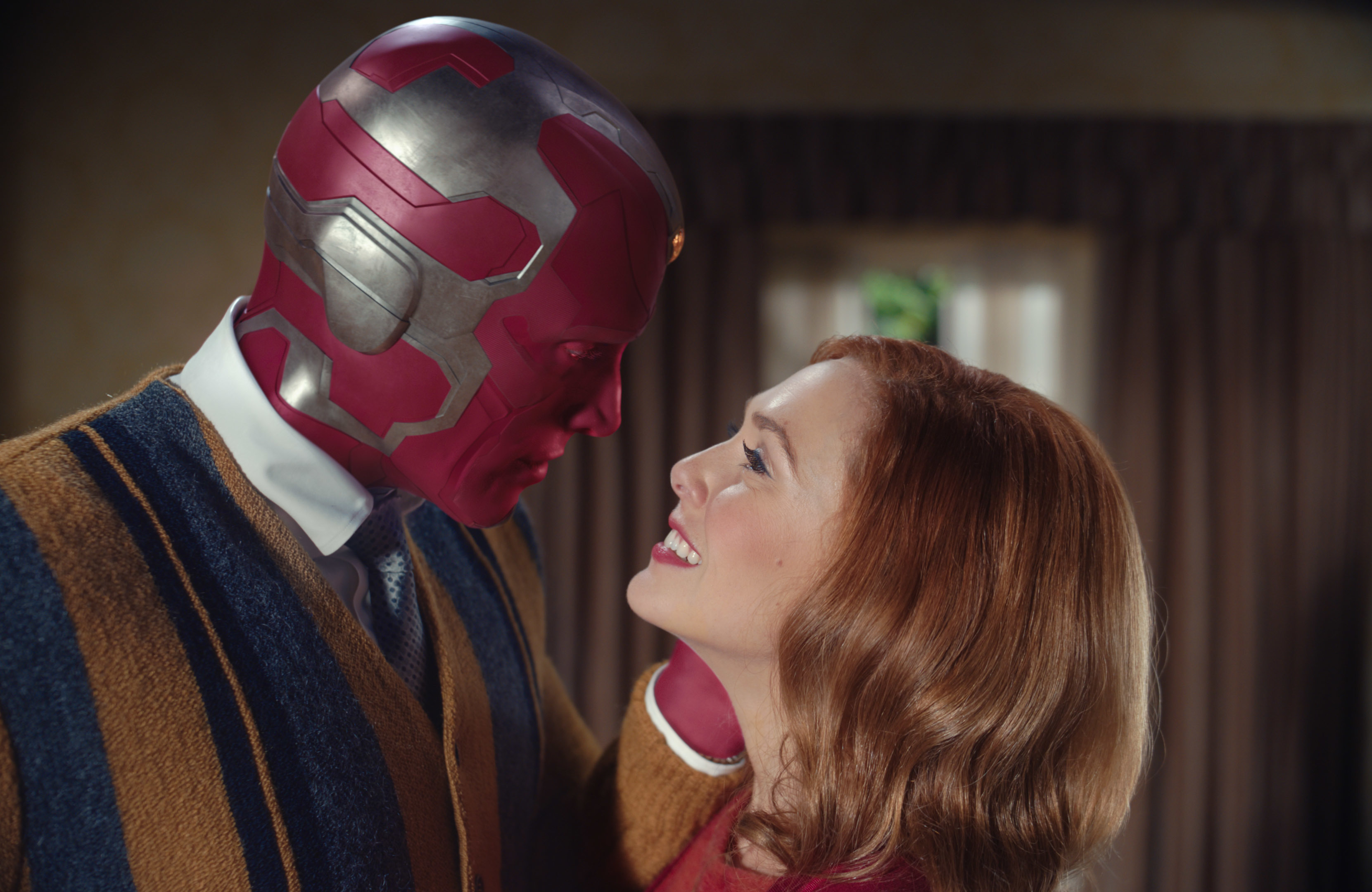 Rest assured Marvel fans, answers are coming. Olsen said it will become clear at some point during WandaVision why it's a TV show instead of, say, a feature film. The laugh tracks, black and white moments, and '50s style may be unusual for Marvel but there's a plan. The actor got a full explanation from Marvel president and chief creative officer, Kevin Feige. 
"The reason it's a sitcom shows itself later in the show," Olsen said. "When Kevin told me, it didn't feel so bizarre. It felt like a great way to start our story."
Not much to go on, fans know there's something bigger at play. Someone is watching WandaVision and taking notes. As for who they are, and why they're so interested in the superhero couple, is anyone's guess.
Is 'WandaVision' Season 2 happening? 
Fans are already wondering about the future of WandaVision. Will there be a second season? It hasn't been confirmed or denied. The people at Marvel and the cast are tight-lipped about it. However, Bettany's teased something big will happen in the season finale. 
"Episode by episode, week by week, Vision begins to really realize something is not right about this," he told Collider in January 2021. "Something is not right about this town. And then the MCU that we all collide in the most epic of endings."
Whether or not what Bettany hinted at leads to WandaVision Season 2 remains to be seen. For now, Marvel fans can the story play out on Disney+. Every Friday, a new episode begins streaming.