Fans Compare Kanye West's Violent Song 'Eazy' to Eminem's 'Kim'
Kanye West just released a disturbing new music video for his song "Eazy," and fans are comparing it to Eminem's violent track "Kim." Here's what you need to know about the two songs and what fans are saying about them. 
Kanye West buries Pete Davidson alive in his 'Eazy' music video 
On Mar. 2, Kanye West and The Game released a music video for their song "Eazy." The black and white clip depicted West kidnapping and killing a claymation Pete Davidson.
In one scene, the rapper buried the Saturday Night Live star and scattered rose seeds over him. West watered the flowers and cut enough of them to fill a truck bed, a reference to the truckload of roses he sent his ex, Kim Kardashian, for Valentine's Day amid their divorce.
Throughout the video, the rapper holds and strokes the comedian's decapitated head while rapping lyrics, "I can beat Pete Davidon's a–."
The clip ends with a black screen reading, "Everyone lived happily ever after." The next shot says, "Except you know who," with the word "Skete" crossed out. The final screen reads, "JK he's fine." "Skete" is the name West has been calling Davidson on social media.
The rapper has been openly hateful toward Davidson since the comedian started dating Kim Kardashian (West's ex) amid the former couple's divorce proceedings.
Eminem murders his wife in his song 'Kim'
"Kim" is a track from Eminem's 2000 album The Marshall Mathers LP. The rapper never made a music video to accompany the song, perhaps because of its extremely violent and graphic nature.
The lyrics follow Eminem as he forcibly takes his then-wife Kim Mathers to a secluded area where he murders her and puts her body in the trunk of his car. It contains the chorus, "So long, b—-/You did me so wrong/I don't wanna go on/Living in this world without you," and ends with the rapper screaming, "You were supposed to love me! Now bleed, b—-, bleed!"
Ironically, Pete Davidson once performed a parody of Eminem's song "Stan" on Saturday Night Live. The song is about a fan who, like Eminem in "Kim," murders the mother of his child and puts her in the trunk of his car.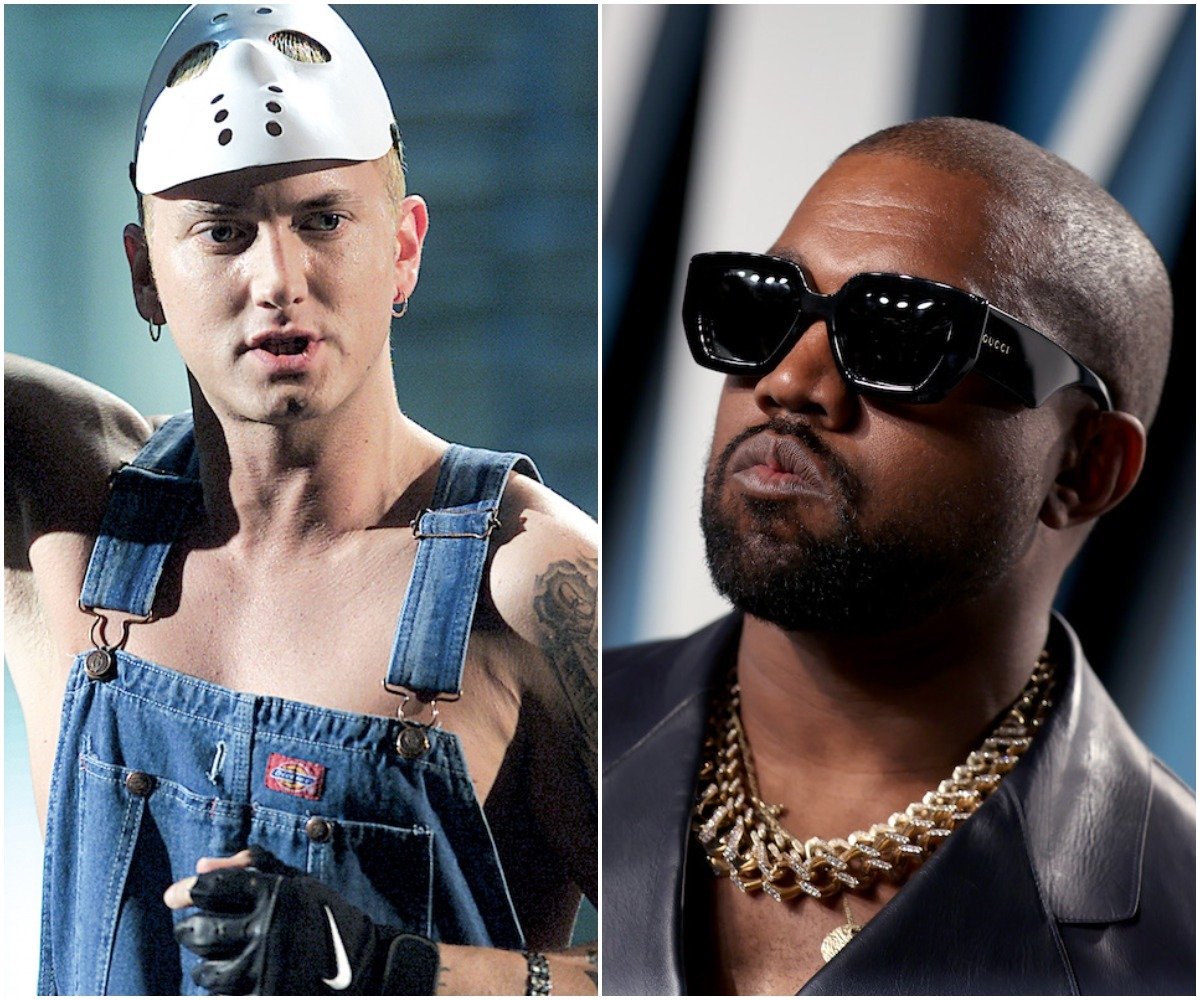 Fans are seeing similarities between Kanye West's 'Eazy' to Eminem's 'Kim'
Kanye West's and Eminem's fans are drawing comparisons between "Eazy" and "Kim." Both songs are about revenge, with West burying his ex's new boyfriend alive while Eminem murdered his traitorous wife. And both tracks are about a tumultuous relationship with a woman named Kim. 
One fan compared the two songs in the "Eazy" video comments section on Youtube: "Eminem was a lot worse with his Kim but now Kanye is expressing his sadness and everyone hates him. Ok…"
Others are posting comparisons of the two songs on Twitter with messages like, "People comparing Kanye's Eazy video to Eminem's songs about killing his ex… like… neither of these things are okay nor are they normal 😳"
"I don't care what y'all say, that Kanye West 'Eazy' is knockin," one fan tweeted. "By the way, how many people did Eminem murder graphically on wax without everybody threatening to call the police on him?? Or was Marshall Mathers the one who did the murdering … anyway."
"Where's this energy for Marshal Mathers wife when he's in their talking about murdering her!!!?? HUH!!?? Exactly!" another fan tweeted. "Just because y'all love some Pete Davidson doesn't mean y'all can trash Kanye's literal best song in YEARS! He's expressing himself just like Eminem did! #EAZY #Kanye."
RELATED: Eminem Launches 'Mom's Spaghetti' Restaurant With Attached 'Store For Stans'