The Bizarre Thing Bob Dylan Did to the Floor in Elvis Presley's Studio
Elvis Presley recorded one of his most important songs at Sun Records. Later, Bob Dylan showed up at that studio and did something odd to the floor.
Bob Dylan has often acted unconventionally — like the time he went to the studio that helped Elvis Presley become famous. There, he did something highly unusual to the floor to pay homage to the King of Rock 'n' Roll. Here's a look at what happened — and how other other artists helped make the same room legendary.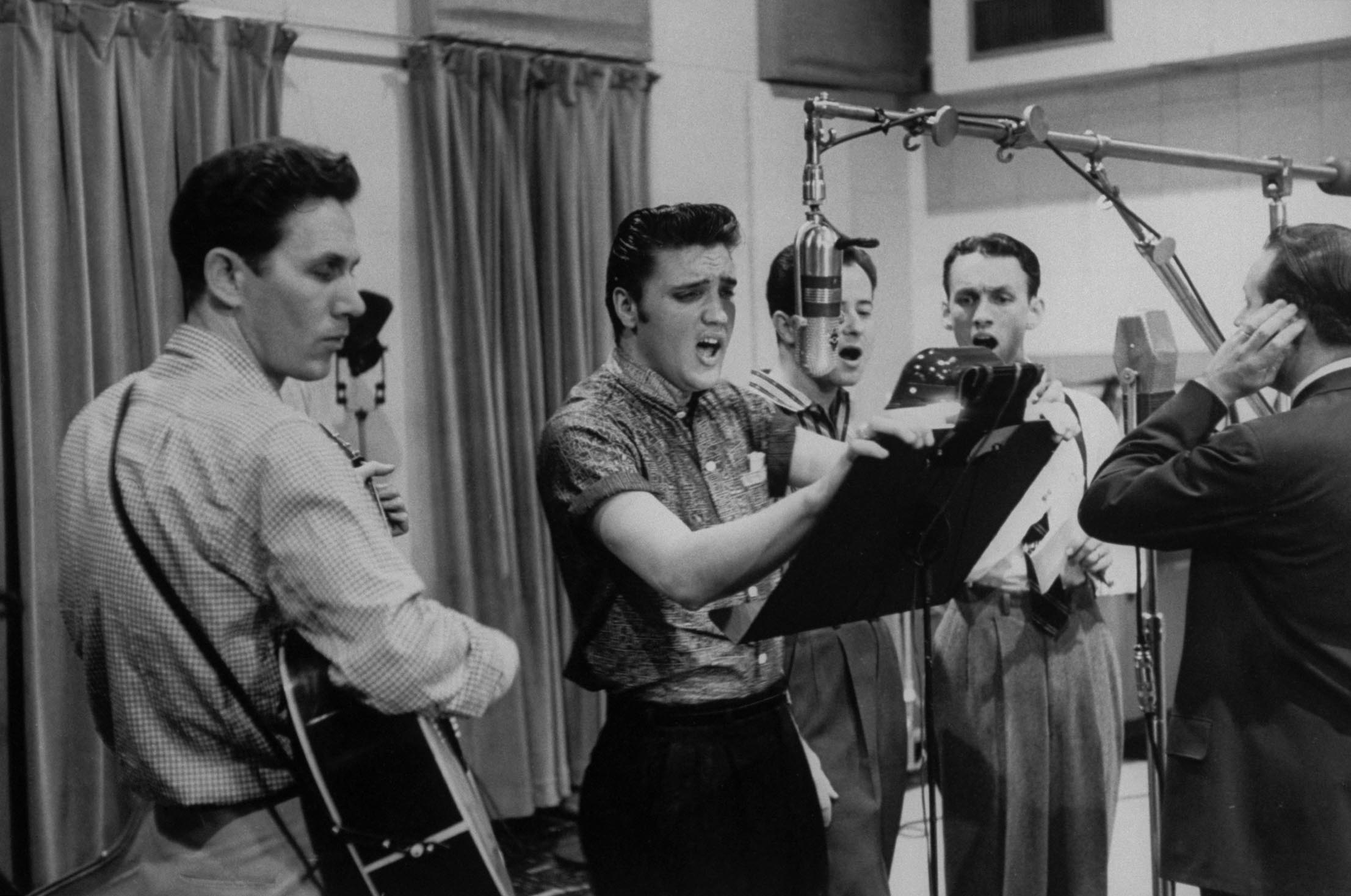 A View into the Happenings at Sun Studio and Sam Phillips
Firstly, a little background. According to Slate Magazine, Sam Phillips was a DJ who was familiar with Black Delta Musicians and with blues music. Phillips opened the first recording studio in downtown Memphis, Tennessee at 706 Union Avenue that came to be known as Sun Studio. At Sun, he recorded late great singers including Riley King, known as the Beale Street Blues Boy, B.B. King, Johnny Cash, Carl Perkins, and Jerry Lee Lewis. Elvis went into the studio in 1953 so he could be discovered.
Bob Dylan's unusual tribute to Elvis Presley
In one small room of Sun is where many of the rock n' roll legends once recorded. According to The Austin Chronicle, the spot where Elvis stood and recorded "That's All Right" is marked with an X. This spot is especially important, as some critics and fans feel that Elvis' version of "That's All Right" is the very first rock 'n' roll song. The question of which song is the first rock 'n' roll track is highly controversial, but "That's All Right" is undoubtedly an early example of the genre.
Dylan was a huge Elvis fan. According to Goldmine, he said "Hearing him for the first time was like bustin' out of jail." You can definitely hear the King's influence in Dylan's work. According to The Austin Chronicle, Dylan later kissed the X on the floor at Sun Records. Today, the famous room at Sun Records is a tourist attraction for fans of the numerous artists who have recorded there.
A look at the other artists who made Sun Records legendary
While Dylan paid tribute to the King of Rock 'n' Roll, other artists have actually recorded in Sun's hallowed rooms. The New York Times reports U2 worked with producer Jack Clement at Sun Studio. Clement was a producer who previously worked for Elvis, Cash, Lewis, and Perkins.
According to Rolling Stone, Def Leppard also used the studio to create an acoustic version of their track "Tonight" in 1993. With all this history behind it, the National Parks Service designated the room a National Historic Landmark in 2003. The Studio's history didn't end there, as John Mellencamp cut songs for his LP No Better Than This in 2010. Mellencamp felt looking at the X on the floor made him make great music. Finally, Elle King's debut album Love Stuff was recorded there in 2015.  While Dylan kissed the floor in tribute – others after him have continued to make music at the spot that is considered a landmark of rock 'n' roll.