'The Voice' Season 21 Episode 4 Recap: Group Dynamics Continue to Dominate
The Voice Season 21 Episode 4 jumped right into business on Tuesday, Sept. 28, finally revealing which coach Holly Forbes chose after a cliffhanger ending on Monday. Forbes had a tough decision to make; Kelly Clarkson, Blake Shelton, John Legend, and Ariana Grande all turned for her outstanding performance of Elton John's "Rocket Man." Holly's young daughter hoped her mom would pick Team Ariana, but Holly had to go with the singer she's listened to for years: Kelly.
The Voice is nearing its final week of Blind Auditions. To quote what seems like Kelly's favorite word, how will the teams "navigate" the competition going forward? For now, here's a recap of episode 4.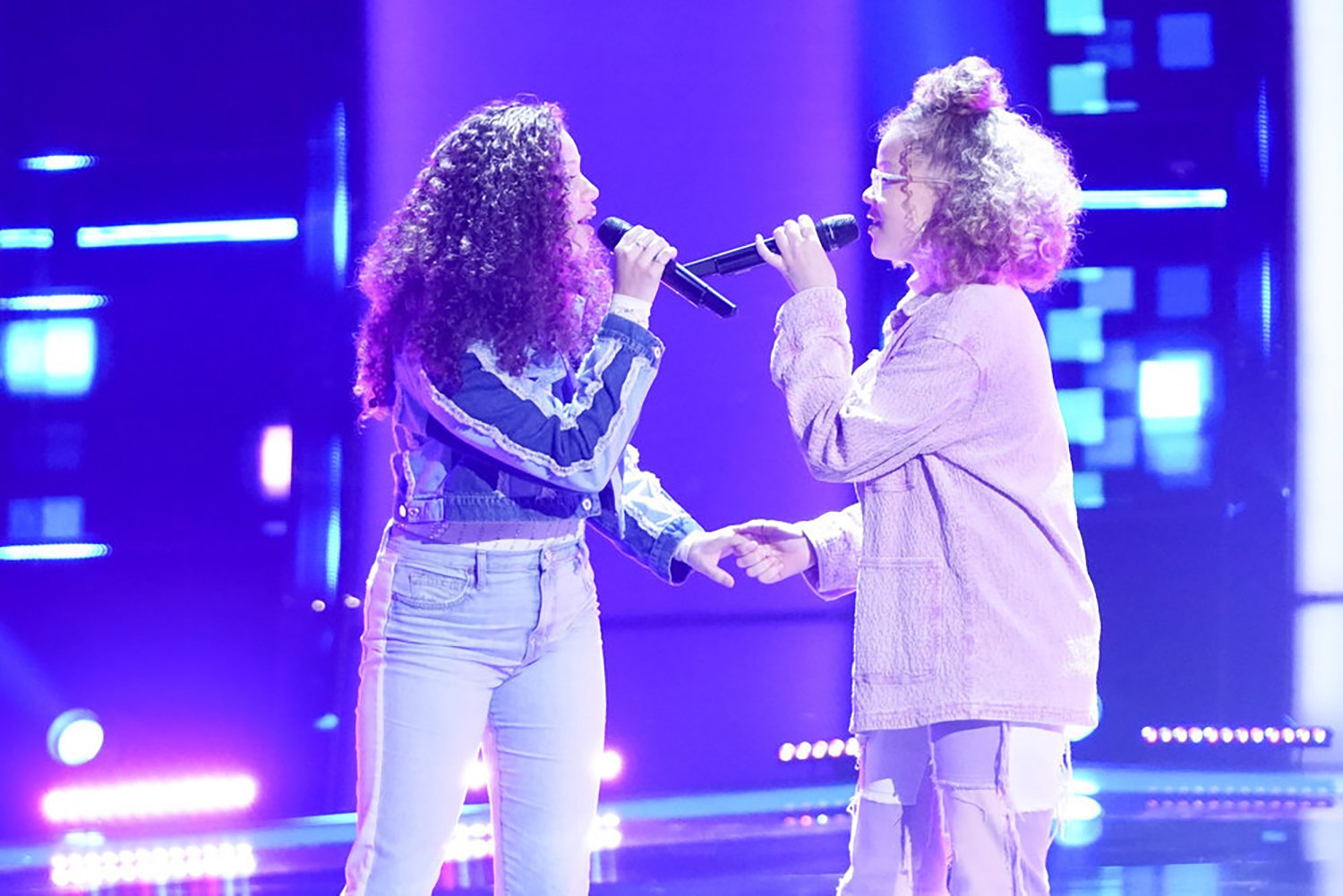 Team Kelly
The Voice Season 21 has seen more groups and duos than ever before. The competition's fourth group, The Cunningham Sisters, joined Girl Named Tom on Team Kelly during episode 4.
Macie, 15, and Marie, 14, come from a family of musicians, so it was no surprise when they stunned Kelly and Legend with their rendition of "Never Alone" by Tori Kelly and Kirk Franklin. The song acted as a reminder to the Ohio teens, too — they revealed that they experienced bullying growing up because they're biracial. However, the sisters have stuck together and persevered, remembering that they're never alone.
Kelly jumped right into coaching with The Cunningham Sisters, telling them that she could help them blend their voices better for more synchronization.
Team Kelly so far: Girl Named Tom, Kinsey Rose, Carolina Alonso, Gymani, Jeremy Rosado, Holly Forbes, the Cunningham Sisters
Team Legend
Janora Brown, 22, of Wingate, N.C., won 24 out of 25 talent shows she competed in during school. Is it any wonder that she impressed Kelly and John on The Voice Season 21? Janora sang "Angel of Mine" by Monica, earning immediate turns from the two coaches. John loved her high notes. Meanwhile, Kelly started coaching right away, telling the singer that she can help round out her notes for a fuller sound. The early coaching didn't work this time, though, as Janora chose John.
Team Legend so far: Jonathan Mouton, Jack Rogan, Samuel Harness, Joshua Vacanti, Paris Winningham, Keilah Grace, Samara Brown, Janora Brown
Team Blake
With her ukulele in hand, 21-year-old Kaitlyn Velez of Long Island, N.Y., is unstoppable. She's used the instrument to write songs since she was 14 and even released a few hit singles on Spotify recently. Kaitlyn's performance of Mike Posner's "Please Don't Go" earned turns from John and Blake. John told her that he loved her vibrato, while Blake could already tell America would love her. Kaitlyn chose Blake, adding a unique style to his team.
Apparently, Blake was on a roll on Tuesday night. The Voice offered quick glimpses at two other artists to join his team. Berritt Haynes, 19, used his Make-A-Wish to see a taping of the show but couldn't go because of the pandemic. Now, he's competing on The Voice. Talk about a step up. Viewers also saw 25-year-old Clint Sherman, a Texas native who seemed to be a perfect fit for Blake's team.
Team Ariana
Bella DeNapoli, 22, of Long Island, N.Y., comes from a loud, musical Italian family, which would soon become a bonding point for her and Ariana. She wowed Ariana, Kelly, and John — who all turned simultaneously — with a performance of "Damaged" by Danity Kane. Blake was too busy trying to decipher the word she spelled in the song to turn. Kelly described Bella's voice as "intricate but fluid and emotional," while Ariana called Bella a goddess. How could she not pick Ariana after that?
David Vogel, 23, of Valhalla, N.Y., did something bold: he sang an Ariana Grande song right in front of Ariana Grande. David put a soft, acoustic twist on "Breathin'," which left Ariana thoroughly impressed. As a former audio engineering student, David has a lot of respect for Ariana because of her heavy involvement in the production process. These two couldn't be a better match.
Team Ariana so far: Katie Rae, Katherine Ann Mohler, Vaughn Mugol, Chavon Rodgers, Jim and Sasha Allen, Raquel Trinidad, Hailey Mia, Bella DeNapoli, David Vogel
RELATED: 'The Voice': How Many Seasons Has Kelly Clarkson Won?