Where Is the Cast of 'Frasier' Now?
For 'Frasier' fans, this is that "Where are they now?" article you want to read.
Looking back at some of your must-watch TV shows of the past, you wonder where all your favorite stars went. For Frasier fans, this is that "Where are they now?" segment you want to see. The sitcom began as a spinoff for Kelsey Grammer's Frasier Crane role on Cheers. Frasier chronicled the lives of the titular psychiatrist, his brother Niles Crane, father Martin Crane, housekeeper Daphne Moon, and Frasier's co-worker Roz Doyle. The show aired for 11 seasons from 1993 to 2004.
And now, a Frasier reboot is in the works. But it's still unclear which actors will return. So it makes perfect sense to explore where the Frasier cast is now.
'Frasier' was one of America's favorite TV shows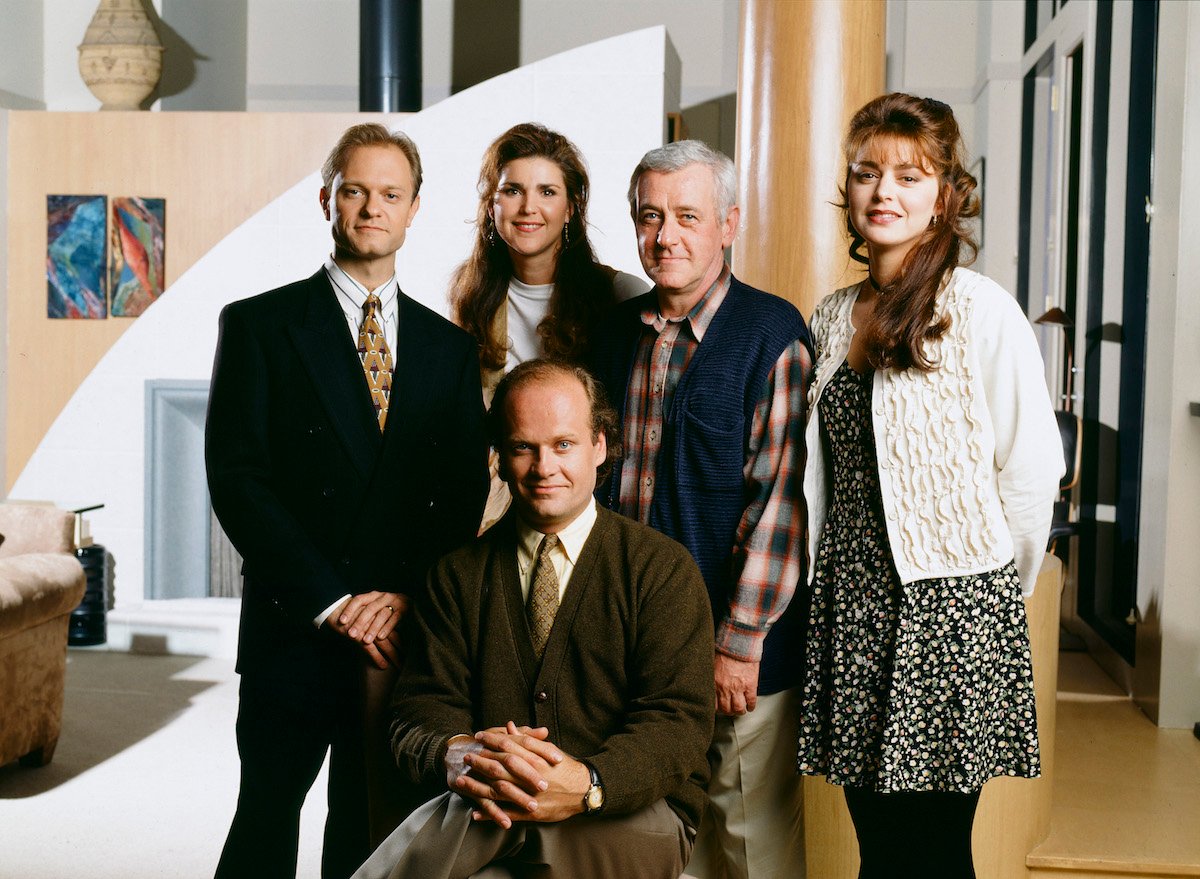 If you haven't seen Frasier, here's a spoiler-free synopsis to pique your interest. And if you've ever watched Cheers — the beloved show about bar comradery that spanned years and featured top talents like Ted Danson, Woody Harrelson, and Shelley Long — you already know Frasier Crane.
Kelsey Grammer plays Frasier, a psychiatrist who, upon his divorce from his Cheers wife, Lilith (played by Bebe Neuwirth), moves to Seattle for a fresh start. He takes his therapy sessions to a radio show, where he shares the booth with his show's producer, Roz Doyle (Peri Gilpin).
He lives with his salt-of-the-earth yet sometimes pessimistic father, Martin Crane (John Mahoney), who relies on a physical therapist, Daphne Moon (Jane Leeves), to help him limber up his hip that has him using a cane.
Frasier also spends much of his time with his uptight and pretentious brother, Niles Crane (David Hyde Pierce). He has a secret crush on Daphne, who doubles as Frasier's housekeeper.
Frasier was more than just a popular show. It was also a critical success. Kelsey Grammer and David Hyde Pierce each won four Primetime Emmy Awards. In total, the TV show snagged five Emmys for outstanding comedy series, Business Insider reports. During its 11-year run, Frasier earned 37 wins and 108 nominations.
What is Kelsey Grammer doing now?
The Frasier stars didn't stop acting when the show ended in 2004. And many of the actors have remained friends over the years. With the talk of the reboot happening, fans are wondering what the beloved Frasier cast members are doing these days.
Kelsey Grammer remained in the spotlight due to his personal life, including a bitter divorce from Camille Grammer, who took their drama to The Real Housewives of Beverly Hills. But today, he's happily remarried. 
Professionally, he continued to voice Sideshow Bob in The Simpsons through 2017. And he's taken on major roles in films like X-Men: The Last Stand, X-Men: Days of Future Past, and Transformers: The Age of Extinction. Some of his other TV shows since Frasier include Back to You, Proven Innocent, and Boss.
Where is the rest of the 'Frasier' cast now?
David Hyde Pierce hasn't committed to joining the Frasier reboot. But he's been plenty busy since the TV series ended in 2004. He's starred on stage in the production of Spamalot. He won a Tony for his Broadway performance as Lieutenant Frank Cioffi in the Curtains musical. From 2014 to 2015, Pierce appeared in The Good Wife. He went on to star in Wet Hot American Summer: First Day of Camp, a show on Netflix.
Peri Gilpin, too, stayed busy with TV appearances in The Lionhearts, Scorpion, and Make It or Break It. Recently, she appeared in the film Benjamin, the Daily Mail reports. She also appeared in Medium, Desperate Housewives, and Law and Order: Criminal Intent. In addition, Gilpin and Jane Leeves, who remain close friends, started a production company together.
Leeves continued working in entertainment, and for five years after Frasier, she played Joy Scroggs in the comedy Hot in Cleveland. She's currently starring in The Resident, a medical drama, and doesn't plan to quit the TV show for a Frasier revival, Entertainment Weekly reports.
On a sad note, John Mahoney, who played Martin Crane on Frasier, died of throat cancer in 2018 at age 77. His beloved fur pal, Eddie the Jack Russell Terrier, named Moose in real life, died in 2006. Leeves lovingly made Mahoney a godfather to her firstborn.
Paramount+ is heading up the reboot. But details are still scarce. It's still unknown whether the original Frasier cast will reprise their roles, but Grammer said he "gleefully anticipates sharing the next chapter."