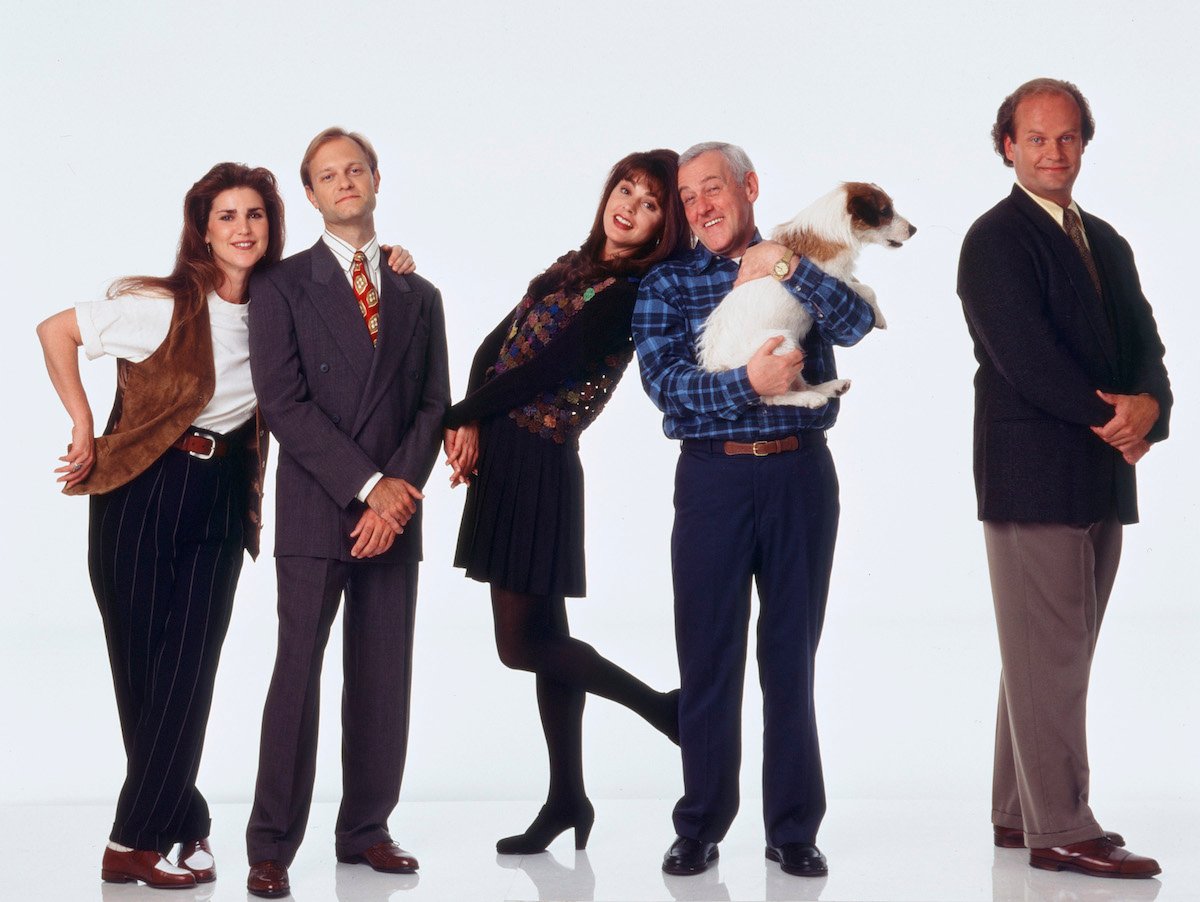 Frasier
Frasier is an American TV comedy that aired from 1993 to 2004 on NBC. The series stars Kelsey Grammer as Dr. Frasier Crane, a pretentious yet likable therapist who hosts a call-in psychiatry show on a Seattle radio station. It also includes actors Jane Leeves as his housekeeper, Daphne Moon; David Hyde Pierce as his brother, Dr. Niles Crane; Peri Gilpin as Roz Doyle, the producer of Frasier's radio talk show; John Mahoney as his father, Martin Crane; and Moose as Martin's dog, Eddie.
The TV show is a spinoff of the popular sitcom Cheers, where Frasier Crane first appears. He frequents the titular Boston bar and dates waitress Diane Chambers (Shelley Long). Following their breakup, he meets and marries fellow therapist Lilith Sternin (Bebe Neuwirth). Frasier picks up after their marriage ends, and he moves to Seattle for a fresh start.
During its 11-season run, the series won 37 Emmy Awards, earned 107 nominations, and made Kelsey Grammer a household name.
---
Cast: Kelsey Grammer, Jane Leeves, David Hyde Pierce, Peri Gilpin, John Mahoney, Moose
Creators: David Angell, Peter Casey, David Lee
Genres: Comedy, sitcom
Original release: 1993-2004
Seasons: 11
Episodes: 264
Plot: After his marriage fails, uppity but lovable psychiatrist Frasier Crane moves from Boston to Seattle, where he hosts a radio talk show and faces challenges from his arrogant brother, down-to-earth father, friends, and colleagues
Ending theme song: "Tossed Salads and Scrambled Eggs"
Fun fact: Halle Berry had a brief and barely noticeable role on the show
If you like this show, you might also like: 3rd Rock From the Sun, Cheers, Everybody Loves Raymond, Hot in Cleveland, Just Shoot Me, The King of Queens, Mad About You, The Nanny, Will & Grace, Wings
---
Visit the Frasier page on IMDb.
Read more about Frasier, the show's history, and behind-the-scenes information. Plus, see what the cast is doing now: