'Ted Lasso': Phil Dunster Says Jamie Will Be at a 'Crossroads' in Season 2
Season 2 of Ted Lasso premiered on Apple TV+ on July 23. The first episode revealed that star player Jamie Tartt (Phil Dunster) is appearing as a contestant on a reality dating show. In an interview with TechRadar, Dunster gave more insight into what Ted Lasso fans can expect from Jamie this season.
[Spoiler alert: This article contains spoilers for Ted Lasso Season 2.]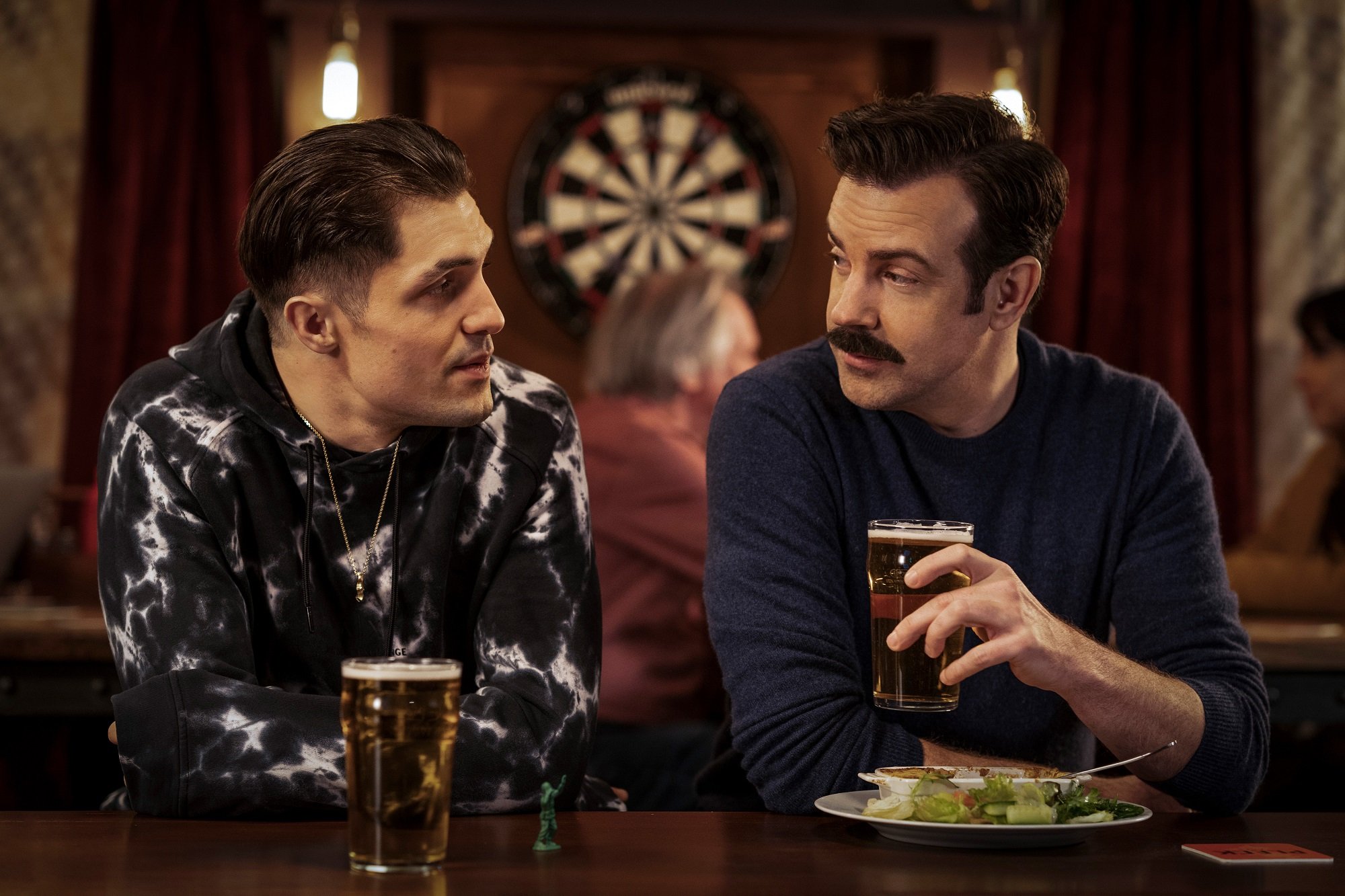 Jamie Tartt is suddenly a reality star in 'Ted Lasso'
For its second season, Ted Lasso will release episodes on a weekly basis. In the season's first episode, "Goodbye Earl," Roy Kent (Brett Goldstein) sits down to watch a reality dating show with his yoga group. To his surprise, Jamie is one of the contestants. And to his anger, his friends are all obsessed with Jamie.
The last time viewers saw Jamie, he was playing soccer for Manchester City, the team that defeated AFC Richmond in their final game of the season. Speaking with TechRadar, Dunster revealed how Jamie ended up going from being a famous soccer player to the star of a reality TV show that parodies Love Island.
"Jamie's at this place now where he's trying these different avenues," Dunster told TechRadar. "Maybe he feels like he couldn't continue to do all that work on his own [without Ted]. Perhaps he's stepping away from football and maybe trying something that is less to do with his talent."
Jamie will be at a 'crossroads' throughout season 2 of 'Ted Lasso'
Dunster told TechRadar that his character will have an intense storyline in the second season.
"Jamie spent the first season tussling with emotional growth and doing some emotional heavy lifting for the first time in his life," he said. "His shift in location [back to Manchester City] means that he's no longer around those people who were helping him try to grow. I think by doing that [emotional growth] on his own, by this point, he's been trying too hard and he's tired of doing it, and that's one of the reasons why we see him at this crossroads [in his life]."
Dunster added, "You'll see a more emotionally evolved character [in season 2]. I think Jamie will continue to tussle with his issues as we go forward and, just maybe, start to understand that the work is rarely finished."
Phil Dunster thinks the show explores important themes
Since it premiered on Apple TV+, Ted Lasso has received critical acclaim. According to Dunster, the second season will expand on themes from the first season and take on new topics.
"As a series, you see us challenge things like toxic masculinity and mental health, but one of the things that the show does really well is it looks at them in an obtuse way," the actor told TechRadar. "We're not going 'Oh, that toxic masculinity is real'; the writers and creators look at it through a sense of vulnerability and understanding. Hopefully, that comes across to the audience."
New episodes of Ted Lasso drop Fridays on Apple TV+.