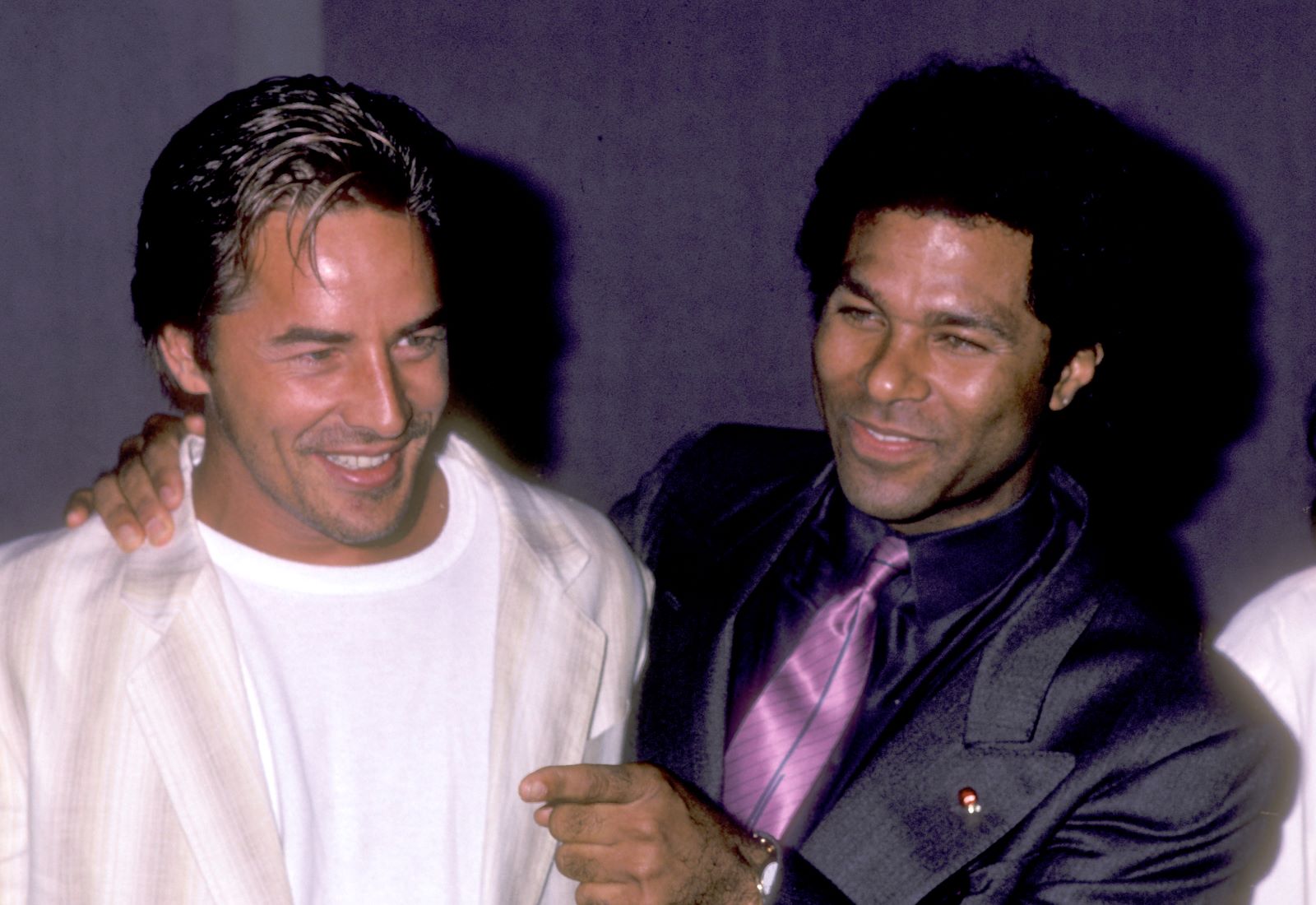 Miami Vice
Miami Vice is an American crime drama that premiered on NBC in 1984 and ran for five seasons. The TV show stars Don Johnson and Philip Michael Thomas as undercover vice detectives Sonny Crockett and Rico Tubbs.
The series became iconic for its synthy theme song, splashy Miami sights, and slickly dressed co-stars. Johnson's character especially stood out for his pastel suits, fast Ferraris, perpetual 5 o'clock shadow, and pet alligator. And music legend Phil Collins added more star power by portraying a drug-dealing con man in two episodes, which also featured his hit single "In the Air Tonight," forever associating the song with the series.
However, NBC canceled Miami Vice in 1989 after a ratings dive following the departure of showrunner Dick Wolfe and composer Jan Hammer, who had written and performed the hit theme song and the show's incidental music. But by then, the series had cemented itself as a classic, enduring through reruns and spawning a 2006 movie starring Colin Farrell and Jamie Foxx as Crockett and Tubbs.
---
Main cast: Don Johnson, Philip Michael Thomas, Saundra Santiago, Edward James Olmos, Michael Talbot, Olivia Brown
Creator: Anthony Yerkovich
TV genres: Action, crime, drama
Original release: 1984
Seasons: 5
Theme song: "Miami Vice Theme"
Plot: Two undercover Miami police detectives take down drug traffickers while facing personal and professional vices.
Network/streaming: NBC.com, Hulu, Starz, Amazon Prime Video
Behind the scenes: Crockett's 1972 Ferrari 365 GTS/4 Daytona Spyder was actually a Corvette in disguise.
Fun fact: Don Johnson is actor Dakota Johnson's father.
If you like Miami Vice, you might also like: Burn Notice, CHiPs, Dexter, Magnum P.I., Remington Steel, Spenser for Hire, Starsky & Hutch, Wiseguy
---
Featured Articles:
'Miami Vice' Almost Hired Mark Harmon — Would It Have Changed 'NCIS' Star's Legacy?
---
'Miami Vice': Sonny Crockett's Descent Into His Murderous Alter-Ego Burnett
---
'Miami Vice' Was So Influential It Protected the Florida City's Art Deco Buildings
---
'Miami Vice': Did Directors Really Have to Avoid Colors Like Red and Brown?
---
Visit the Miami Vice page on NBC's website.
Read more about Miami Vice, the show's history, and behind-the-scenes information. Plus, see where the cast is today: