'A Parks and Recreation Special' Proved to Be the Joy Everyone Needed
When one needs a pick-me-up, Parks and Recreation is always a good option. That was clear on April 30 when NBC aired A Parks and Recreation Special, bringing joy to TV as people quarantine due to the coronavirus (COVID-19) outbreak. The one-off reunion episode raised money for Feeding America's COVID-19 Response Fund and followed the main characters in a video chat format as they practiced social distancing.
[Spoiler Alert: This article contains spoilers for A Parks and Recreation Special.]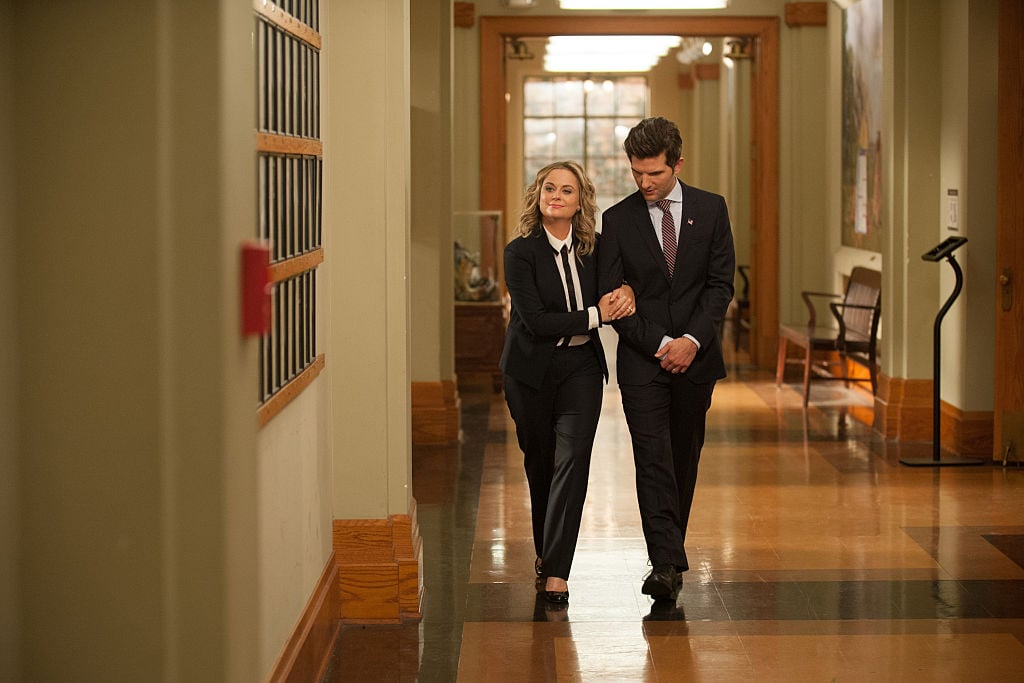 'A Parks and Recreation Special' featured a lot of cameos
In A Parks and Recreation Special, all 10 main cast members, Amy Poehler, Rashida Jones, Aziz Ansari, Nick Offerman, Aubrey Plaza, Chris Pratt, Adam Scott, Rob Lowe, Jim O'Heir, and Retta, returned. However, fans were also treated to cameos from some of the funniest Pawnee residents.
The episode opened with Paul Rudd's Bobby Newport, Leslie Knope's former competition for city council in 2012. Bobby appears outside, wearing a Knope 2012 hoodie. He tells the camera that Leslie asked him to read a message about how the special came to be.
"What is she talking about?" Bobby asks when he finishes reading the message. "Is something going on? I haven't watched the news lately." Someone off screen fills Bobby in, and then he explains, "What?!"
Fans also see Joan Callamezzo and Perd Hapley during a virtual media blitz held by Ben and Leslie. During the commercial breaks for Joan and Perd's shows, viewers catch up with Dennis Feinstein, Jeremy Jamm, and Jean-Ralphio Saperstein.
Fans see where the beloved characters are now
After Bobby's message, the nostalgia-inducing Parks and Recreation introduction begins. The episode then picks up with Leslie and Ben video-chatting using Gryzzl. Leslie is at work at the U.S. Department of the Interior, while Ben is a congressman and is home-schooling their kids.
When the coronavirus stay-at-home orders started, Ben's "Do you think a depressed person could make this? No!" meme about his season 4 claymation project went viral on social media. That is referenced in A Parks and Recreation Special when a depressed Ben decides to use quarantine to write a claymation/Cones of Dunshire screenplay.
Leslie then calls Ron, who is staying at one of his cabins to hunt so he can avoid grocery shopping. He assures Leslie, "I have been practicing social distancing since I was four years old." While Ron is told to call Garry, he calls April and Andy instead, and finds that Andy has been trapped in the couple's shed for two days, determined to free himself instead of April letting him out.
Andy and April call Chris and Ann, who are quarantining separately in their home. Ann has returned to nursing and is helping with outpatient care, and out of caution she is temporarily staying in a separate wing of the house. To do his part to help, Chris is donating blood four times a week.
Next, the episode catches up with Tom and Donna. Tom's book tour was canceled, so he's using his time trying to come up with new entrepreneurial ideas. Donna feels for all of the teachers having to teach children online after watching her husband Joe teach remotely.
Donna finally calls Garry, and Tom tricks Leslie into joining the call too. Garry is still serving as Pawnee's mayor, and he laments that the town did not appreciate him canceling the Popsicle Lick-And-Pass Festival.
The special episode ends with '5000 Candles in the Wind'
Perhaps what made A Parks and Recreation Special so great was it was the perfect blend of nostalgia while also addressing the current times. After Ben and Leslie's media blitz, Leslie calls Ron again and discovers that his ex-wife Tammy 2 (played by Nick Offerman's wife Megan Mullally) has broken into his cabin.
While Tammy 2 is tied to a chair, Leslie admits that she feels like she is not able to do enough. Even though she is able to catch up with one person a day, she misses talking to everyone. Ron calls April and organizes a group call with everyone to boost Leslie's spirits. Together, the group sings "5000 Candles in the Wind," a tribute to Pawnee's favorite miniature horse, Li'l Sebastian.
At the end of the call, Leslie thanks Ron for helping her.
"It was easy. I just called all your friends and told them I thought you needed a little help. They cleared their schedules." Ron says. "Leslie, don't spend all your time looking after other people. Look after yourself once in awhile."
"That's good advice. I'll call you tomorrow," she says.