Aaron Carter's Girlfriend Plans to Go on Tour With Him This Year — She 'Can't Wait to Come Along'
Aaron Carter's Instagram is like reality television that's almost always on. He's very active on social media, especially Instagram. He recently posted an image of himself performing and his girlfriend, Melanie Martin, commented on the post, which has fans talking. Read on to learn what they're saying.
Aaron Carter posts an image of himself performing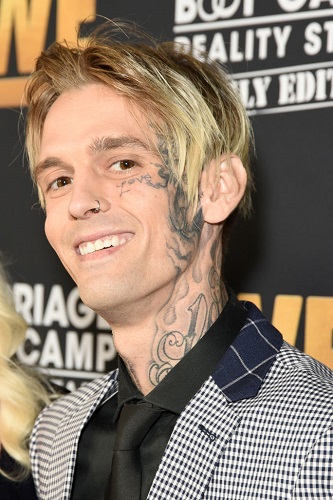 Carter recently posted a photo of himself on Instagram. He's performing on stage to a full crowd of people. "Missing my fans all over the world! Can't wait to start touring again! See you soon. Where do you wanna see me tour THIS YEAR 😈," Carter inquired of his fans.
Carter's girlfriend commented on the post
Carter's girlfriend decided to comment on the post and people had a lot to say about it. "Can't wait to come along 💕💕💕💕 and see you perform 😍😍😍😍," Martin said in the comments.
Fans couldn't help but react to Martin and of course, there was some hate in the mix. "You'll be highly disappointed like the rest of us lately. You'll see," an Instagram user commented.
One fan said that Martin has "trust issues" when it comes to Aaron Carter. "It's disgraceful how you treat his loyal fans that have been around longer than you. Just because you're incredibly insecure and have trust issues. Grow up Melanie," someone wrote.
Someone else told Martin not to "shame" Carter's loyal fans just for "complimenting" him. "Try not to publicly shame his fans for complimenting his music," another user said.
One Instagram user thinks Martin was trying to warn the groupies out there. "Trying to warn the groupies eh?? That was way too obvious," they hilariously wrote.
Others seem to agree. "Right… that was so obvious she's trying to keep the female fans away," someone else chimed in.
Numerous fans commented with where they'd like to see Aaron Carter perform next
Many fans commented with where they'd like to see Carter perform, which includes places in the United States as well as all over the world, despite the latest concert cancellations due to the coronavirus.
"With that virus going around you may be waiting a little longer," a user wrote.
Of course, there were a few funny comments in the mix as well. "Lol…Aaron's ready to spread his own version of coronavirus," one Instagram user said.
One fan suggested Carter check out a certain place. "In a place called rehab," the user suggested.
Another fan had some advice for Carter in regards to his girlfriend and how she might handle his female fans. "Try not to let Melanie attack every female fan that may flirt with you," someone wrote.
It's unclear how the coronavirus will change Carter's touring plans considering the widespread cancellations of tours all over the country. Many of Carter's fans don't seem to be fans of his girlfriend, Melanie Martin and they have no problem letting everyone know it.