'Better Call Saul' Season 6 Trailer Clarifies Walter White Mystery From 'Breaking Bad'
Find out which mystery from 'Breaking Bad' Season 4 the 'Better Call Saul' Season 6 trailer may have solved.
Better Call Saul fans can't stop talking about the season 6 trailer. In addition to giving fans a glimpse at the final season of the AMC series, the trailer might resolve a mystery from the Breaking Bad Season 4 episode "Thirty-Eight Snub." Find out what clue fans found in the Better Call Saul trailer that hints at the Breaking Bad mystery.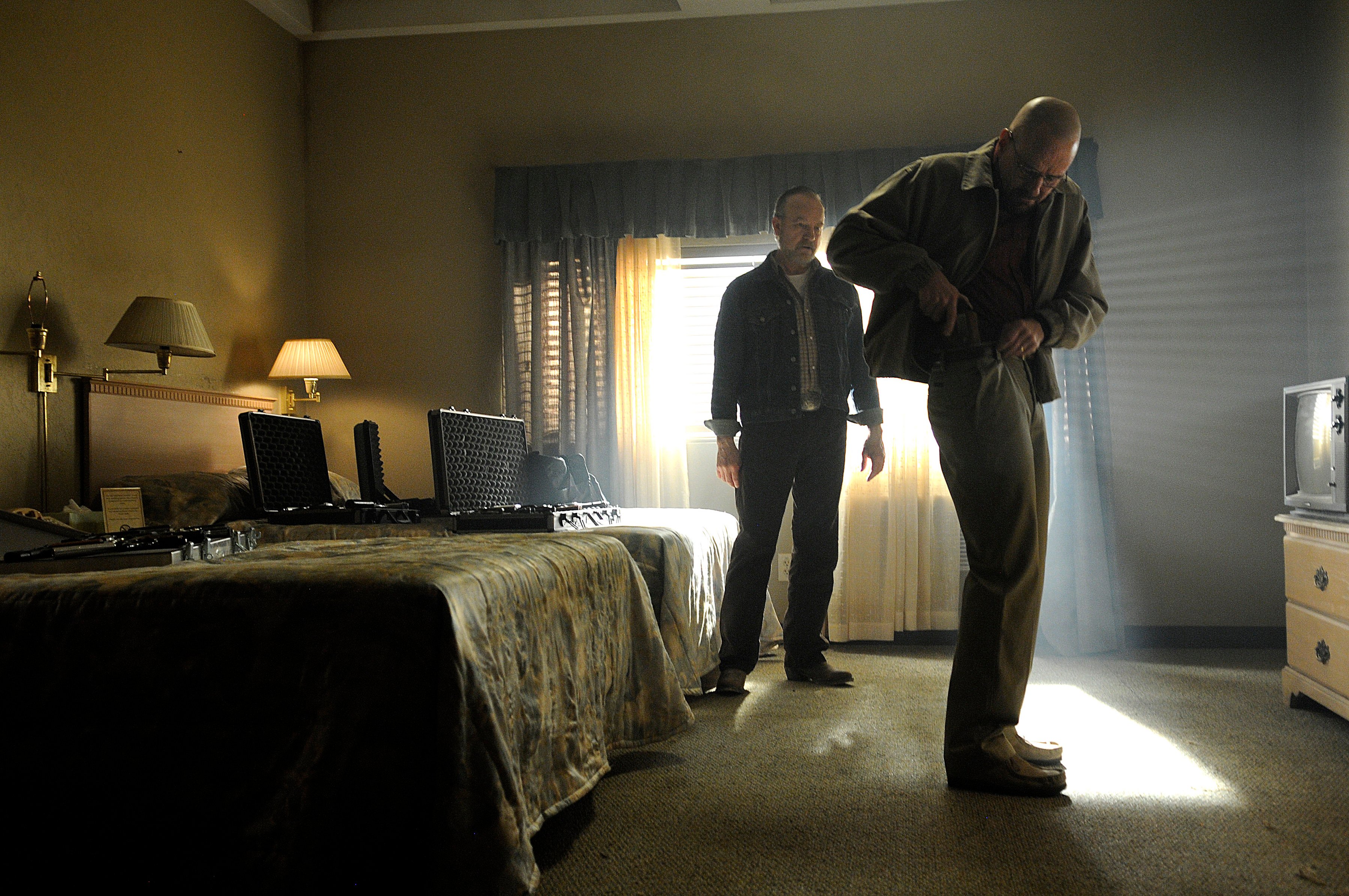 'Better Call Saul's final season begins in April and ends in August
The sixth and final season of Better Call Saul will come out on Apr. 18. Season 6 will have 13 episodes, split into two parts. The second half of the Breaking Bad prequel will premiere on July 11 and conclude on Aug. 15. 
So far, the first two episode titles are: "Wine and Roses" and "Carrot and Stick." At publication, it's unclear if every episode of Better Call Saul's final season will follow the same title format.
Bob Odenkirk, Rhea Seehorn, Jonathan Banks, Michael Mando, Tony Dalton, and Giancarlo Esposito are only some of the cast returning in Better Call Saul's final season. Showrunners Peter Gould and Vince Gilligan also worked on season 6. 
'Better Call Saul' trailer clarifies how Tyrus knew Walter was trying to assassinate Gus in 'Breaking Bad' Season 4
As Screen Rant pointed out, the Better Call Saul Season 6 trailer alludes to Gus Fring's (Esposito) house being monitored by cameras. At first, it seems like he's being spied on. But it's more likely the drug king pin had the cameras set up as a protective measure. It could also explain why Tyrus Kitt (Ray Campbell) knew Walter White (Bryan Cranston) was gearing up to kill Gus in Breaking Bad Season 4 Episode 2. 
In "Thirty-Eight Snub," Walter goes to Gus' house to murder him but loses the nerve when Tyrus phones him and tells him to "go home." The episode doesn't reveal how Tyrus knew Walter was there, but the season 6 trailer for Better Call Saul may have answered that question all these years later.
'Better Call Saul' Season 5 ending: a refresher 
Better Call Saul fans can't wait until Apr. 18 (22 days if you're counting down like we are). In the meantime, Netflix is adding 5 of Better Call Saul to their streaming options on Apr. 5. Fans can catch up or rewatch old episodes there or through AMC+. 
And as a refresher before the season 6 premiere, Better Call Saul Season 5 ended with Saul Goodman (Odenkirk) and his wife, Kim Wexler (Seehorn) — she proposed to him in "Wexler v. Goodman" — getting more intertwined with the drug cartel. Kim seems to be enjoying the "criminal lawyer" life, but Saul's hesitation is still there. 
The season ends with Lalo Salamanca (Dalton) evading the hitmen Gus hired to have him killed, which Ignacio "Nacho" Varga (Michael Mando) helps enter the Salamanca compound in "Something Unforgivable." Nacho makes a run for it, but it seems Lalo has finally figured out he's been working as a double agent. 
Watch the season 6 premiere of Better Call Saul on AMC on Apr. 18.